Portable Spas And Hot Tubs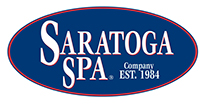 Saratoga Spas provide the ultimate in hydrotherapy as well as state of the art conveniences. We offer four distinct lines of portable spas – Luxury, Adirondack, Cottage, and Special Edition – each available in a variety of styles, sizes, and functions.
Saratoga Spa, a company deep in tradition, takes its name from Saratoga Springs, N.Y. a bastion of Hydrotherapy, rest, and recreation since the 17th century.