Saratoga Pool Steps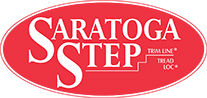 The Saratoga Step with the Tread-Loc™ system is the highest quality pool step available to the industry. We start with a thermoplastic sheet material of ABS with a pure white cap to form a one-piece integral step. This is a technologically advanced material designed to have excellent weather-ability and chemical stability as well as resistance level to acids, alkalis, and salts. It is also specially formulated with ultraviolet inhibitors to ensure long-term durability.
The Saratoga Step by Imperial Manufacturing offers more – more interior volume, more quality, more value. Our steps are designed to provide maximum area, maximum comfort and maximum utility. Demand more from your step – demand a Saratoga Step.
In addition to more room inside, the Saratoga Step boasts the patented Trimline collar, individual seating on radius model and the option of three perfectly placed hydrotherapy jets for total spa relief and relaxation.
And we stand behind our steps with a limited lifetime limited warranty.
---
Color Options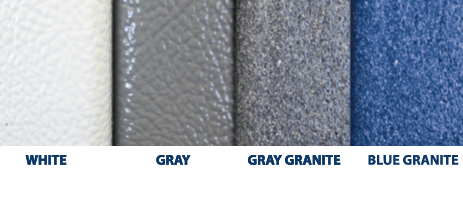 Tread-Loc™ Steps and Whitewave Spas are available in four colors to seamlessly blend into your décor. Choose from White, Gray, Gray Granite or Blue Granite. All finishes are constructed to withstand the elements and look beautiful for years to come. Gray Granite offers a unique textured feel and distinct granite finish for a look that is sure to impress.
---
Saratoga Steps