Why Buy A Pool?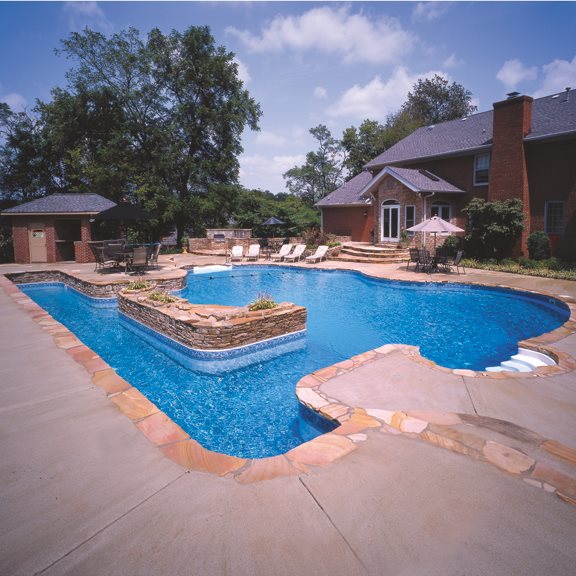 Ten Reasons to Take Home the Life You've Always Imagined
A pool enhances your life and turns your backyard into an everyday vacation spot. These are not our words, but the claims of current pool owners.* If you're thinking of buying a pool, listen to those who have already: the benefits of pool ownership are not just perceived notions but facts, including:
1. Enjoy Quality Family Time
When you buy a pool, you get a great way to bring the family together; whether you are teaching the kids how to swim, throwing a pool party, or just simply relaxing on those warm summer evenings and grilling on the deck.
2. Create an Outdoor Oasis
A well-designed swimming pool can transform your backyard into an elegant outdoor oasis. Waterfalls and vanishing edges will make a pool the stylish focal point of any outdoor space.
3. Stay on Top of Your Fitness
Save time and money by working out using your pool rather than joining a pricey gym. Swimming can provide a total body workout and lowered risk of injury, so you can lose weight and stay in shape without getting into your car.
4. Increase Your Home's Value
Not only does a pool increase the value of your home, but it's an amenity that is attractive to many homebuyers. You can be assured your home won't go unnoticed with an eye-catching pool as the centerpiece of your backyard.
5. Soak Your Worries Away
After a long day at work or a busy day of taking care of the daily grind, what better way to unwind than to relax in your new pool—without even having to step out of your backyard? The pool will soothe your tired muscles, and when it comes time to call it a day you'll sleep better than you ever have before.
6. Beat the Summer Heat
Get outside and still stay cool; take advantage of your outdoor retreat and stay refreshed by lounging around your inground pool.
7. Safe Play for Kids
Kids have a safe place to play with a pool in your backyard. And watching them is stress-free, being able to keep an eye on them from the comfort of your own home.
8. Gathering the Neighborhood
Invite the neighbors and entertain in style this summer with a new pool. A poolside cook-out or get-together can turn any summer day or night into a memory they won't soon forget.
9. An Economically Smart Choice
When you buy a pool, financing and maintenance is made easy and it's a great alternative to expensive vacations and getaways, and without the fuss of hectic traveling time.
10. Create Lasting Memories
It's a great investment to buy a pool, and you'll continue to reap the rewards long after the purchase is made. While family vacations unfortunately must come to an end, you'll find enjoyment from your pool year after year without ever having to travel farther than your backyard.
Buy A Pool
Visit an Imperial Pools Legacy Edition or Matrix System dealer and take home the life you've always imagined.